WordPress themes market are saturated
My WordPress Theme Business - Episode 01
With a new category in my blog, I would also like to give insights into my WordPress Theme Business in the future. In addition to the usual WordPress tutorials and plugin reviews, I would now like to report regularly about what things I have personally dealt with during the month and what I am currently working on.
a look behind the scenes
I've been developing and selling WordPress themes for eight years.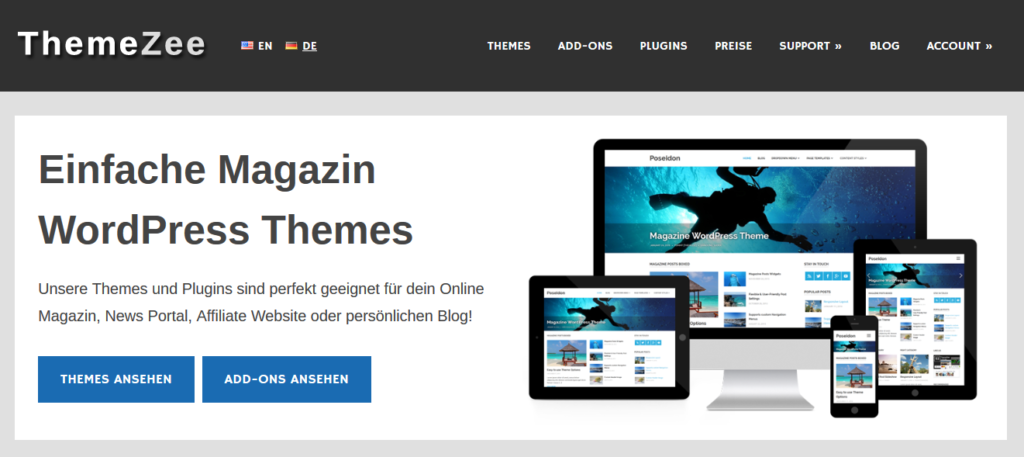 As a sole proprietorship (new German: Solopreneur) I currently take care of all aspects that arise when running a WordPress theme shop. In other words, from design and programming to support and marketing, I am responsible for almost the entire range of tasks. Only accounting and taxes are outsourced.
And I want to write about that in the future. A new episode every month.
The topics will probably be very different, just like my tasks, sometimes technically, sometimes economically. Basically, I just want to document what I've been doing for the month. A blog should actually also be a diary.
Why the whole thing?
I would like to give you - my readers - a look behind the scenes of my WordPress theme shop. As a founder, I always find insights from other entrepreneurs into their business incredibly interesting and informative. I would like to do the same now.
This new series is an experiment and I hope to make some fun and educational contributions as well. At the moment I'm a little afraid that no pig will care 😀 We'll see how it goes.
New challenges
Since the start of my theme shop in 2010, the WordPress industry has changed a lot. In the meantime, the market for WordPress themes is increasingly saturated and the competition is fierce. With the huge range of themes, it is becoming increasingly difficult to set yourself apart from the competition.

With Gutenberg, the biggest technical innovation in WordPress since its existence is pending. In contrast to earlier updates, there is a lot to suggest that Gutenberg and the new blocks seem rather disruptive and that the industry is messed up.
My contribution about the three phases of Gutenberg shows that the entire theme could probably be based on blocks in the future. That is why I see a lot of technical, but also economic challenges for my business.
In any case, we are currently experiencing a very exciting phase in the WordPress industry.
Personally, the new editor convinces me and I am confident that Gutenberg will offer not only a few risks but also a lot of opportunities for theme developers. That's why it quickly became clear to me that I wanted to start developing my own blocks for Gutenberg, which leads me to the next point.
Learn JavaScript deeply
Over the past few months I've been doing a lot of work with JavaScript. The new WordPress editor is implemented in JavaScript using the React Library. After PHP was previously the central language for WordPress development, the new blocks now require JavaScript.
Gutenberg is therefore a very good occasion to finally take a closer look at the language. And necessary if you want to develop blocks.
Until then, I would describe my knowledge of JavaScript as okay.
Except for slideshows (which I use Flexslider for) I implemented many scripts in my themes myself. Most of them are rather simple animations for drop-down navigation, scroll-to-top buttons, tabbed content widget, drop-down search and some custom controls for the customizer.
Like so many theme developers, I use jQuery for this. So I have a relatively good understanding of jQuery, but that somewhat lost the connection to pure JavaScript. I also had little idea about the new ES6 features.
As a result, the plan quickly arose to refresh my knowledge.

Actually, I'm more of the type who consumes and expands knowledge in text form like books and online tutorials. I learned about JavaScript for the first time with video courses and a lot of learning-by-doing, which worked really well.
The starting point was Wes Bos's courses, which I only heard good things about and then just tried out. I'm a big fan now and have done most of his courses with JavaScript30, ES6 for Everyone, React for Beginners, Learn Redux, What the Flexbox and CSS Grid.
Wes Bos is a fantastic teacher and I can wholeheartedly recommend his videos if you have no problem with English.
Developing blocks for Gutenberg
For the development of blocks, there is also a video course with the Gutenberg Development Course by Zac Gordon, which is highly recommended.
I acquired the course when it launched in January. Zac recently added the entire course because a lot has changed in the Gutenberg API since then. All videos are now up to date again.
You can also find a detailed review on Thorsten Frommen's blog:
Click on the button below to load the content of tfrommen.de.
Load content
In the meantime I have worked my way into Gutenberg fairly well and also created the first experimental blocks. And the more I deal with it, the greater the potential I see for all sorts of things. All initial skepticism about Gutenberg has given way to enthusiasm.
I also don't find developing blocks as difficult as I initially feared. It just requires a different skill set. When I first reported about Gutenberg on this blog last year, I also studied the code on Github.
Back then I stumbled across a few lines!
Arrow functions, the rest and the spread operator or even destructuring have often left me at a loss. The problem wasn't Gutenberg, but my lack of knowledge of modern JavaScript development. Know-how about ES6 is very helpful.
A basic understanding of React is also an advantage. It doesn't hurt to know about React's concepts like props, state, JSX, and lifecycle methods, as these are used in almost every block.
After that, nothing stands in the way of Gutenberg Blocks' development.
An outlook
I hope you enjoyed the first episode. Episode 2. Comes at the beginning of May. Then I will report what happened to me in April. If you don't want to miss anything, you are welcome to subscribe to my newsletter 🙂