How is glass brought to the point
In the case of glass facades, brought to the point / kept
(28.2.2007) Today, glass influences the design of industrial and commercial buildings like hardly any other material. In fact, glass is often seen as the "new dimension in architecture of our century". Planners and architects have long been convinced of this. Huge all-glass facades, large glass roofs and load-bearing glass components - such as connecting structures, complete ceilings and floors - are no longer uncommon. The range of uses for structural glass construction is now enormous. Naturally, this also increases the requirements for safety and fastening technology.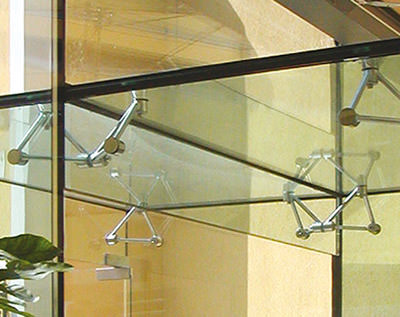 SFS intec currently offers the market three different glass fastening systems. The range includes canopy fasteners (VDS system), glass holding systems (ALW system) and a special range of glass point fasteners with different head geometries. Interesting accessories have now been added to this range.

For the listed SFS glass point fixtures ALP, ALT and AO-FLEX there are now detailed solutions, such as a large selection of different substructure spiders, suitable assembly devices and the special glass drill FLEX.
All spiders are either cast, welded or lasered. The architect or the facade builder can choose between polished and brushed versions. The individual components are tailored to the different requirements in glass assembly and are put together in assembly-friendly overall packages.
All new SFS intec glass fasteners and connecting elements are suitable for both outdoor and indoor use, wherever point-fixed glass elements are to be used and aesthetically effective. The high-quality A 2 stainless steel material and the professional workmanship promise the builder a secure and technically perfect, permanent attachment.
see also for further information:
mostly more recent posts that refer to this:
selected further messages: