What are the different jobs in Korea
Working Holiday in Korea
There are several things one should know before deciding to spend a working holiday year in Korea.
Hourly wages in korea
The minimum wage in Korea is 7,000 won an hour, the equivalent of 5-6 euros. For comparison: the minimum wage in Germany is almost 10 euros. I heard from a French woman that you can work 20 hours a week with a Working Holiday Visa. That means you can earn 560,000 won a month. Rent alone costs between 250,000 - 500,000 won a month. I think the regulations for Germany are a bit different and you can work a certain number of hours during your entire stay and decide whether you want to work full-time first and then travel. But it is best to arrive with a lot of money saved or get monthly support from your family. If you don't have that, there is good news: the working hours are not checked, you can work longer.
Work in korea
One job that works well for people on a Working Holiday Visa is waiting. You usually get a job in a restaurant without work experience (but it is a good idea to gain work experience beforehand so that the chances of getting a job increase). Most restaurants want waiters who can speak Korean. However, the level they ask for depends on the restaurant. A good site to find jobs looking for foreigners is http://seoul.craigslist.co.kr/. Sometimes there are also advertisements for casual work, where companies are looking for German-speaking people to test the German on products. These jobs are usually very well paid, so you should always go back to the site and see if such an opportunity presents itself. There are also two to three German FSJ associations that offer an FSJ in Korea. However, these positions are filled very quickly, so it is best to apply about a year in advance.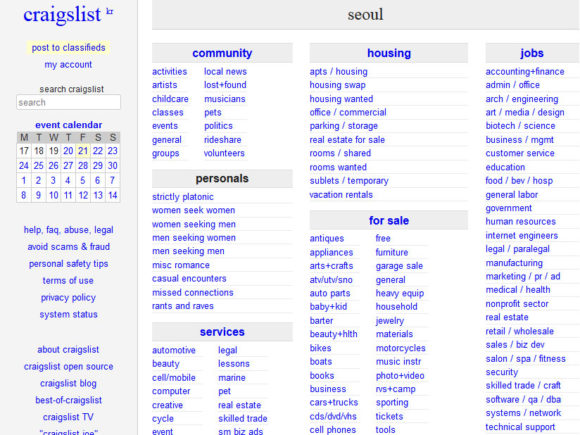 Craigslist Seoul helps foreigners find jobs
Taxes in Korea
When you work in Korea you have to pay taxes. However, this is pretty straightforward, as the employer deducts this from your salary before you get it. But if you do a job where you don't pay taxes, you make yourself liable to prosecution.
Korean bank account
The rules at banks have recently changed and it is now only possible to open an account if you pay rent / water in your own name. But if you cannot do this because you pay your rent directly to the landlord, it is not possible to open your own account. You can survive well without a Korean account, but it's a bit annoying when you always have to pay 1-3% foreign tax when using the German credit card. Fortunately, students do not have this problem, but when opening an account they have to prove with documents that they are students at a Korean university.
Update: I have now found out that you need an ARC card or an official employment contract to open a Korean account.

Loading ...
Categories: Travel Tips | Tags: South Korea, Working Holiday | Permalink
Author: Elena
I am a young woman and have been traveling the world of kpop since the beginning of 2012 - that's when my interest in Korea began. In 2016 I moved to Korea for a long stay abroad. Here I will write about my experiences with this country and give tips for schoolchildren and students 🙂