How Can Someone Start YouTube Ads Business
YouTube Ads for Beginners: How to Develop Effective Campaigns
For months you perfected the script, created a storyboard, cast the right actors, shot and edited the video. The result is an Oscar-worthy brand or product video.
After all the hassle, it would be a shame to just embed the video on a website or share it in a few posts on social networks in the hope that someone would watch it.
Great content is found organically in the end, but of course you should do everything you can to ensure that your video gets the attention it deserves. Be proactive and educate your prospects as well as those who don't know your brand. YouTube ads are a great way to get your videos across to a wider audience.
And with effective formats and tracking capabilities, you also get information that you can use to report on ROI.
YouTube marketing is very different from PPC or paid campaigns in social media marketing. As the second largest search engine in the world, YouTube has certain restrictions, but at the same time there are so many options. If you're looking to get the most out of the paid options, get a solid foundation of knowledge before planning your next video project.
What You May Not Know About Advertising On YouTube
Since Google announced in early 2017 that advertisers will soon be able to target viewers based on their Google search history, an important step has been taken towards targeting with low wastage. Marketers can use it to tailor advertisements to people who have recently searched for specific products or services.
This affects which Video advertisements are displayed to them on the platform. If the content of a video is strongly related to a recent search by the viewer, it is more likely that the entire ad will be viewed or that specific website will be accessed through the ad.
As in classic search engine optimization, YouTube SEO also has to adapt the titles to voice searches. In the YouTube search bar, the user can choose between text and voice search, so you should also optimize for voice tonality. This is usually more colloquial and longer.
The three YouTube ad formats
The Advertise on YouTube offers three different ad formats: TrueView video ads, non-skippable video ads (also called "pre-roll ads") and Bumper ads.
1. TrueView ads
TrueView ads are the Standard video ads on YouTube. Advertisers only pay for TrueView video ads when viewers view or interact with the ad (for example, click a call-to-action). The videos are easy to customize to share a wide variety of content.
Advertisers only pay if a viewer lets the video ad run for at least 30 seconds or to the end of the video (for ads shorter than 30 seconds) or if they take an action, such as clicking a call-to-action . YouTube requires that skippable TrueView video ads be between 12 seconds and 6 minutes in length. (There are also non-skippable video ads, they must be 15-20 seconds long.)
There are two types of TrueView video adsthat you can use to optimize your YouTube channel:
Video Discovery Ads
Video Discovery ads appear in related video suggestions on the YouTube home page, search results, and watch pages.
These video ads were shown after performing a YouTube search: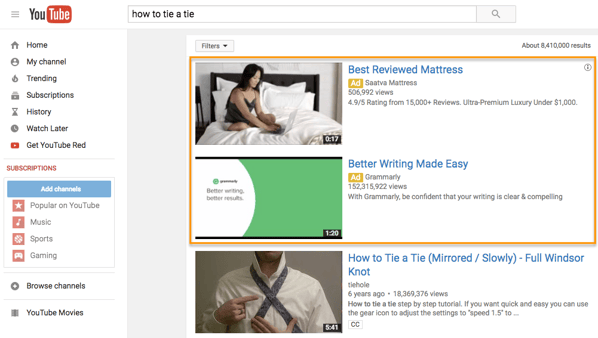 This display appears as a "similar video" in the right sidebar: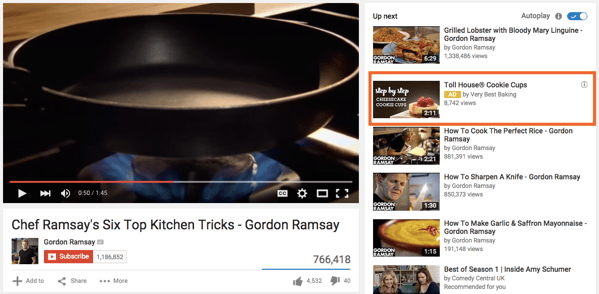 When a user clicks on the video ad, a display ad in the form of an accompanying banner is shown on the target video page in the column on the right.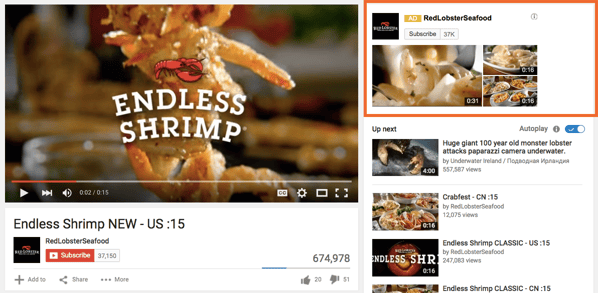 In-stream ads
TrueView in-stream ads play before a user-selected video is played. Users have the option to skip the video ad after five seconds. You can also have them played anywhere on the Google Display Network (GDN) - or on websites that offer the option of running Google video ads.
At In-stream ads Let marketers customize video ads with different CTAs and overlay text, like this example for an in-stream ad from Grammarly.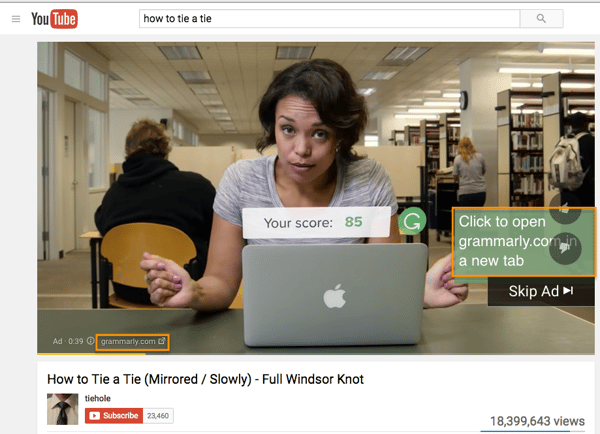 The following example from Wix also shows what an in-stream skippable ad can look like. Here's another CTA from Wix above the video menu display on the right: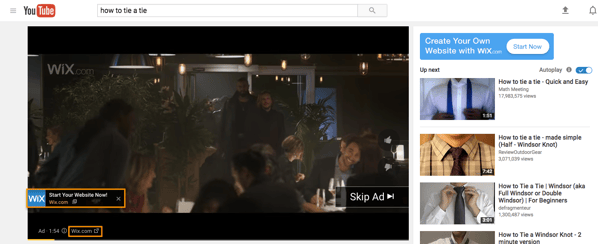 TrueView video ad content
TrueView video ads may contain people, dialogue, and music that you have been authorized to use or that are license-free. However, commercial commercials are not the first choice here. These video ads can be skipped, so you need to make sure that viewers stay with them and watch the ad in full. Experience has shown that conventional product promotions do not achieve the expected audience figures.
Instead, use the duration of your video ad to tell a story. In this regard, understandable examples of situations that are known to many viewers are very popular. Clever content marketing with entertaining storytelling is less likely to be skipped and your brand is better remembered.
TrueView ads provide advertisers with large amounts of data about the performance of their ads, which they can use for optimization and testing purposes.
For example, with Google Ads, YouTube account managers can find out how many times a video ad was viewed in full, and how often, only partially, or whether video ads generated more subscribers. They can also see CTA click rates, the number of views from content sharing, and the views of other branded content that were made from viewing a video ad.
This information will help advertisers better understand the real value of their video ad spend and how a higher budget would need to be used to get better results.
2. Non-skippable video ads
Certain video ads cannot be skipped and will play before the main video (pre-roll), during the video (mid-roll), or after the video (post-roll). They can be up to 20 seconds long.
Here is an example of a non-skippable video ad before the main content on YouTube: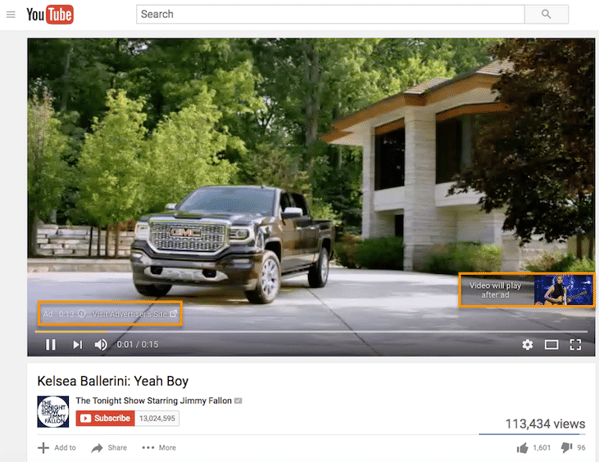 Non-skippable ads can also be displayed during a YouTube video if it is at least 10 minutes long.
Content from non-skippable video ads
The same rules apply to content in non-skippable video ads as to TrueView ads. You can use people, dialogue, audio and other elements to best represent your brand in 15-20 seconds.
Because viewers can't click away non-skippable video ads, it's best to include a call-to-action (CTA) so that you get the most of the attention you already have. A good practice here is to encourage viewers to click your ad by offering them something in return. Maybe you've just launched a new product, or you're promoting a larger event that prospects should sign up for - use non-skippable video ads to generate those clicks.
Note that YouTube sells non-skippable video ads on a pay-per-click (PPC) basis. As soon as a video is clicked, there are costs for you. Make the clicks worth it.
3. Bumper ads
Bumper ads are the third and shortest type of video ad available to you on YouTube. These short spots are only six seconds long and play before, during, or after other videos.
It's hard to tell a really good story in six seconds, but bumper ads are great additions to a larger video campaign for a new product launch or event. Think carefully about how to use those six seconds and only show the components of your brand or product that you really want viewers to remember.
YouTube advertising as an addition to the marketing mix: preparation and publication
After you've created a YouTube video that you want to upload, the next step is to create your video ad campaign. Then upload your video to YouTube. You are now ready to set up your advertising campaign. Open your Google Ads account.
Campaign goal & type
Go to the "Campaigns" tab in Google Ads, click on the + symbol and select "New Campaign" to create a new campaign. You will then be prompted (similar to Facebook's Ad Manager) to set a goal for your campaign.
As you hover over the different tiles, you can see the different types of campaigns that you can use for each goal. Video ads are almost always possible. In our example we select "Brand Awareness and Reach" as the target, "Video" as the campaign type and "Standard" as the campaign sub-type.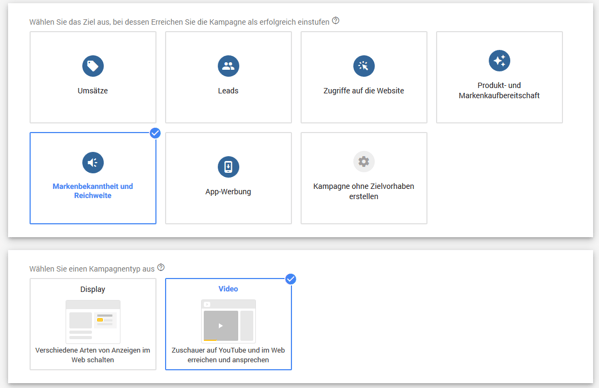 Campaign name
In the next screen you can give your campaign a name.
Budget per video on a daily or campaign basis
You can set your budget on a daily basis or for the entire campaign. You can also choose a delivery method. The standard method is that ads are shown evenly throughout the day.
Alternatively, you can choose expedited delivery, which increases the number of plays as quickly as possible. The latter makes sense if you want to leverage trends or news relevant to your brand's video.

Advertising networks
Here you can specify where exactly you want to place YouTube advertising:
YouTube search results page: Your video ad will appear in search results and on the homepage, YouTube channel pages, and video pages.
YouTube videos: This serves to serve TrueView ads that appear as video discovery ads or as in-stream ads. This option allows you to choose whether to show your video ad before or during videos that appear on the Google Display Network.
We recommend that you create separate campaigns for YouTube searches and YouTube videos. This allows you to better track the performance metrics. Because these ads are served to users who behave completely differently and require different levels of interest from the viewer. Therefore, the performance should be monitored separately.
Locations
Here you can specify the regions in which the ad should appear. You can also exclude certain locations.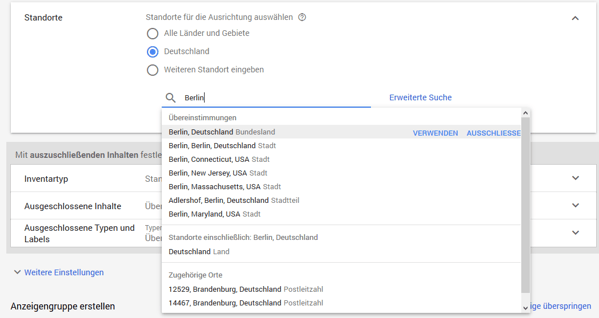 Language, devices and devices
Google Ads lets you choose the operating systems, devices, and carriers that you want to target to further improve your targeting. This is particularly useful for mobile app ads. There is also an option to increase or decrease the respective bid based on whether the video ad is being viewed on a mobile device.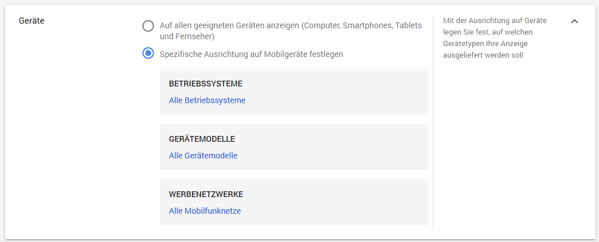 Start and end dates & advertising times
In the areas for the start and end date of your campaign and for the advertising schedule, you can define how long your campaign should last. You can also create a custom schedule for your video ad to play and limit the daily impressions and ads for users. With this information, you can ensure that your video ad is really worth the money.

Design of the video ad
Provide a name for your ad group and paste the YouTube link for the video you want the ad to appear on. Select In-Stream or Video Discovery Ad to use the TrueView format (similar to the examples shown above). On the right side you will get a preview with which you can get an impression of your ad.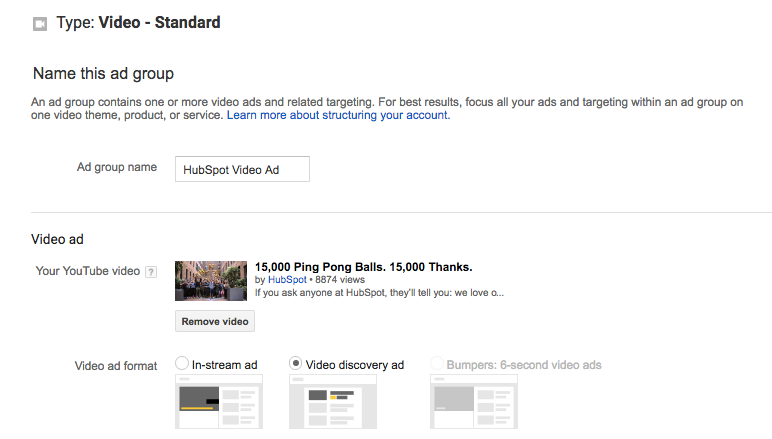 A Video Discovery ad requires you to add a title and brief description. The latter is entered on two separate lines. Note: Titles are limited to 25 characters, while the description can be 35 characters on each line.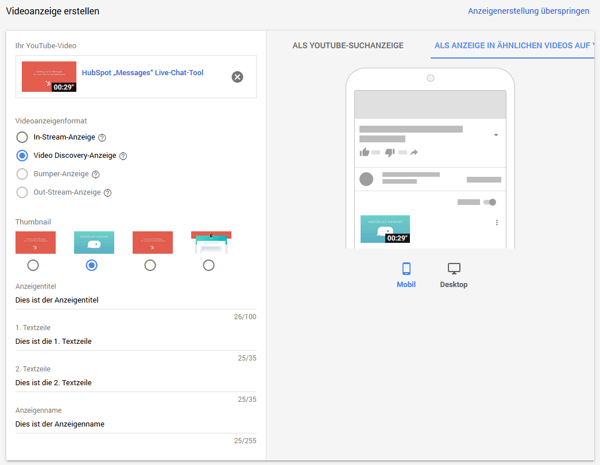 With in-stream ads, you have the option of overlaying a URL over the video. It is best to use a memorable URL that redirects to the actual target URL. You can use advanced URL tracking options. In addition, an accompanying banner with images from your video will appear to the right of the video ad.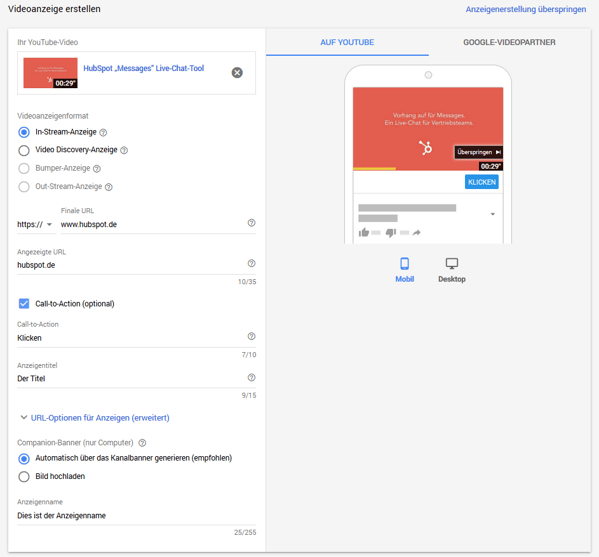 Commandments
In this field you determine the maximum price that you would like to pay for each playback of your video ad. You can adjust this to make your video ad appear more frequently.

Targeting
Of course, you can also define the target group to which your ads should be displayed - options include demographic information such as gender, age and marital status. You can also target people with specific interests, for example beauty experts, amateur chefs, fans of horror films, etc. Try to run different campaigns for different user groups instead of trying to reach all target groups with one campaign. This is how you can see who is most responsive.

Advanced targeting
Specifying keywords, topics, or websites for your video ad to appear on can help you target users even more effectively. Keyword targeting in Video Discovery ads is an efficient way to find individual users looking for a visual answer to a question. Don't neglect your research and try different combinations of keywords to find out which can get you the most views, clicks or conversions.
You can also use Google Ads video ads to retarget people who've been in touch with your brand before. With this retargeting, you can encourage people who already know your brand to interact with it again.

Link your account
If you haven't already, you should link your Google Ads account to the YouTube channel where the video is hosted. You can click "Finish" to start your video campaign.
10 tips for optimizing Google Ads for your video ads
Starting a video ad campaign is a big step. Therefore, before paying for views, there are a few things you should keep in mind to get the most out of your budget and offer the most value to your customers.
1. Define your metrics and goals
When analyzing the performance of your ads, there are four main categories of metrics that you can track for any video. You can find them on the Reports tab in your Google Ads account.
Calls
In the "Views" area, you will find information on how many users viewed an ad and for how long.