Why does Mexico continue to support Maduro
USA and Mexico call on Venezuela to return to democracy
In the face of the political and humanitarian crisis in Venezuela, the United States, Canada and Mexico are pulling together. At a meeting in Mexico City, the foreign ministers of the North American countries urged the government in Caracas to return to democracy. "We are united by concern about the humanitarian situation in Venezuela," said US Secretary of State Rex Tillerson.
Peaceful change of government called for
He called on Venezuelan President Nicolás Maduro to allow free, open and democratic elections. "We want to see a peaceful transition," stressed the US minister.
Shortly afterwards, the ruling socialists in Venezuela named Maduro as a candidate for the upcoming presidential election. The head of state has largely eliminated the opposition.
The Mexican Foreign Minister Luis Videgaray spoke of a "painful situation" for the region. He also pleaded for a peaceful political change in Caracas: "Mexico does not support an option that includes the use of force." Last year, Maduro had the opposition-dominated parliament overthrown by a government-loyal constituent assembly. The presidential election should take place before April 30th. The government opponents are threatened with severe defeat. Numerous opposition politicians were excluded from voting, imprisoned or fled abroad.
Relations between Mexico and the USA are not without strain because of the planned construction of a border wall and the sluggish negotiations on the North American Free Trade Agreement (NAFTA). Nevertheless, the neighboring countries agreed to work closely together on security, trade and energy.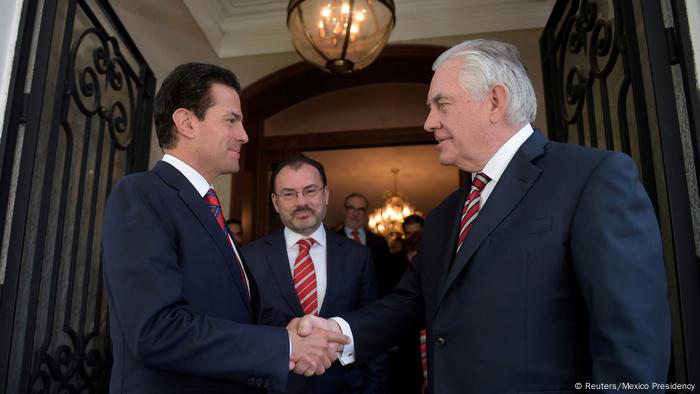 Mexican President Enrique Peña Nieto (left) receives US Secretary of State Rex Tillerson
"Relationships closer than under the Obama administration"
Tillerson also met with President Enrique Peña Nieto. Mexico was ready for a "respectful, open and constant dialogue" with the US administration, the head of state made it clear. His Foreign Minister Videgaray even praised journalists that Mexico's relations with the United States under President Donald Trump were closer and more intensive than under the administration of Barack Obama.
With a view to the arduous NAFTA talks, the Mexican said: "We see the chance that all three countries can win. This is not a zero-sum game." Canadian Foreign Minister Chrystia Freeland was also confident: "We believe in a win-win-win situation."
The US, Canada and Mexico are currently renegotiating the NAFTA agreement under pressure from the United States. After visiting Mexico, Tillerson flew to Bariloche, Argentina. In the coming days, the US chief diplomat is also expected in Peru, Colombia and Jamaica.
se / as (rtr, dpa, ap)