Which is the Best Canadian Immigration Advisor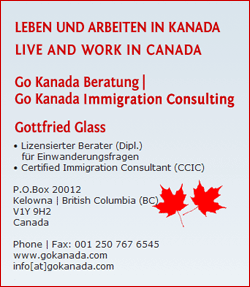 Who or what is GO CANADA?
Of course, you should know who you are dealing with, because contact forms, personal details, telephone numbers, etc. are matters of trust. You introduce yourself to us by contacting us and we hereby give you an insight into our work and qualifications.
GO KANADA was founded by Mr. Glass and offers advisory services on immigration matters / work visas worldwide. The GO KANADA team includes other professionals and partners who deal with immigration, work visas or other related areas (Canada tourism, real estate, etc.) on a daily basis. Former Immigration Officers (immigration officers of the Canadian state, i.e. decision makers for immigration and work visas at the time) who can already look back on 25 years of experience in this field work as partners. Selected GO KANADA partners are registered and licensed.
Mr. Glass himself immigrated from Germany in the 1990s and settled with his family in western Canada. In contrast to many other consultants, he knows from his own experience what it is like to be an immigrant, to look for work and a flat and to have children in school - just to mention a few newcomer tasks. He can understand the desires, the longing - but also the concerns and problems of an immigrant. In order to be able to meet the wishes of clients even better, he has completed a degree in immigration law including relevant areas and is licensed and registered to work as an immigration consultant.
GO KANADA wants to help you to get to know the country, to find work here temporarily or to immigrate. We do not maintain a luxurious office in the city center in a prime business location and with many employees, but we want and can cost you with our services.
CHEAP the way to Canada.
Although we ask you to fill out the contact form, every contact, every family, every request for help is an individual case for us. There is no mass processing. You are not proposal number 634, you are our valued client!
Both the constantly increasing demand in Canada and the equally growing demand from Germany and other countries have prompted us to provide a number of different services for you.