Has MLK admitted to being a Marxist
Greens call against cancel culture: warning of "new bondage"
About 30 Greens oppose left-wing identity politics and the supposed cancel culture. One of them is the mayor of Tübingen, Boris Palmer.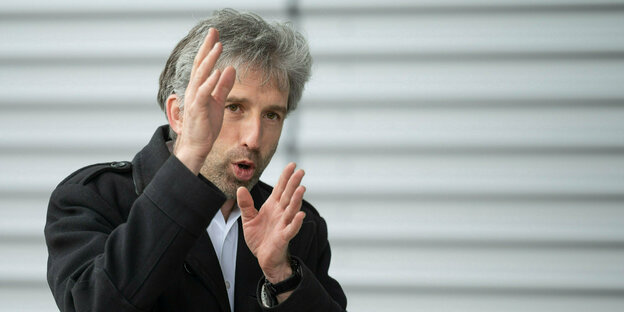 The Tübingen Greens no longer want to put him up as an OB candidate in 2022: Boris Palmer Photo: Marijan Murat / dpa
BERLINtaz | A dispute about language and identity politics is looming among the Greens. About 30 Greens, including the Mayor of Tübingen Boris Palmer, have written an appeal that sees "freedom of art and an open culture of debate, also at our universities and colleges and in our cultural institutions" threatened.
The paper with the title "Be different without fear!" Emphasizes that the Greens "have always stood up against racism, discrimination and insulting minorities". What is required is a "positive way of dealing with difference that includes dealing with colonialism, anti-Semitism and Islamophobia."
It also says: "We are for equal rights for migrants, gays, lesbians and queers". The taz has the paper. It was also signed by long-time MEP Rebekka Harms and former Bremen Senator and MEP Helga Trüpel.
In addition, according to the authors, people have "always campaigned against right-wing identity politics" and "resolutely opposed the Pegida marches." Then there is a but that has it all. "But we also turn against left-wing identity politics!" So ​​Pegida equals gender asterisks?
Model Wolfgang Thierse?
It goes on to say: "A left-wing politics of self-inflation can turn into a new lack of freedom". The example given is the debate about who should translate the poetry of the black poet Gorman. If whites are no longer allowed to translate poems by blacks, "that has nothing to do with a lively, liberal culture."
There was a similar discussion in the SPD that Wolfgang Thierse had triggered with an article in the FAZ. Thierse also turned against exaggerated claims to validity by minorities and associated them with right-wing movements.
"We don't want a cancel culture, but rather an open dialogue about what lived cultural diversity means," says the end of the green plea. And: "We don't want a self-proclaimed avant-garde that tells everyone what can be translated, painted or written. It is not who says something, but what is said that must be the yardstick in our disputes. "
One of the initiators of the call is Rainer Lagemann from Steinfurt, a green party member for 40 years. A trigger for the call was the apology of the green top candidate in Berlin Bettina Jarasch, said Lagemann. Jarasch had said at a party congress that as a child she would have liked to become an "Indian chief". After criticizing this choice of words, which was discriminatory for indigenous people, Jarasch apologized for her "unreflective childhood memories". According to Lagemann to the taz, this is going "too far". He would have wished for "more self-confidence."
It is noticeable that so far no influential active Greens have signed the appeal. The best-known supporter, Boris Palmer, is considered an outsider by the Greens. He also fell out with the central greens in Baden-Württemberg. The Tübingen Greens no longer want to put him up as an OB candidate in 2022.
However, the debate in the SPD was started by someone who no longer plays a role in active politics.