Terrorist attack on armed forces in Niger
Twelve soldiers were killed in the attack on an outpost of the Nigerien military in the Diffa region, according to the Ministry of Defense in the capital Niamey. Alleged fighters of the terrorist group Boko Haram attacked the Blabrine base in the dark. Many soldiers were wounded. In addition, around 20 attackers were killed, it said.
The Blabrine base is about 20 kilometers northeast of the city of Diffa. The city with 200,000 inhabitants near the border with Nigeria has already been attacked several times by militant Islamists. In the remote southeastern region near Lake Chad, the borders of Cameroon, Chad, Niger and Nigeria converge. Several terrorist groups are active there.
Soldiers also killed in Nigeria
Jihadists, including two female suicide bombers, killed seven soldiers in attacks in northeastern Nigeria. This was announced by an army spokesman.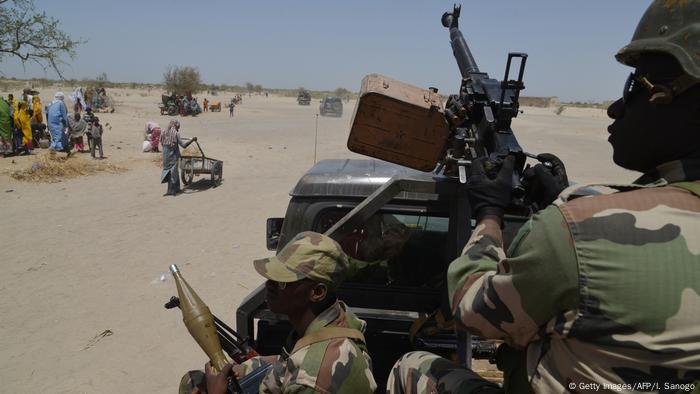 Nigerian soldiers on border patrol
Boko Haram primarily terrorizes the population in northeastern Nigeria, but has also repeatedly attacked civilians and security forces in Cameroon, Chad and Niger, which has killed tens of thousands of people in attacks by the group since 2009. More than 2.4 million people in the region have been displaced from their homes by the violence, according to the UN Refugee Agency.
se / al (afp, dpa)