The future looks bright for Africa
Africa: Possible Winner in Supply Chain Monopoly?
So far, Africa has not felt the full force of the corona pandemic. According to the African Union, 70,000 people are now sick with COVID-19. With just under 1.2 billion people on the continent, that still seems comparatively low. Nevertheless, the consistent exit restrictions hit the population and the economy hard in almost all countries on the continent. Tourism has come to a standstill. And the fall in commodity prices is an additional burden on the mostly indebted national budgets.
Only if lockdowns and restrictions in trade and passenger traffic end quickly can one get away with "economically with a black eye", believes Christoph Kannengießer, managing director of the German African Business Association. However, the forecasts are currently bleak.
The World Bank is anticipating the first recession in 25 years this year. According to the African Union, Corona could destroy 20 million jobs. And according to the UN, every second job in Africa could soon be lost. Kannengießer from the Africa Association also sees new opportunities after the pandemic. Because many companies would diversify their supply chains more. "Africa should definitely be looked at," Kannengießer told DW.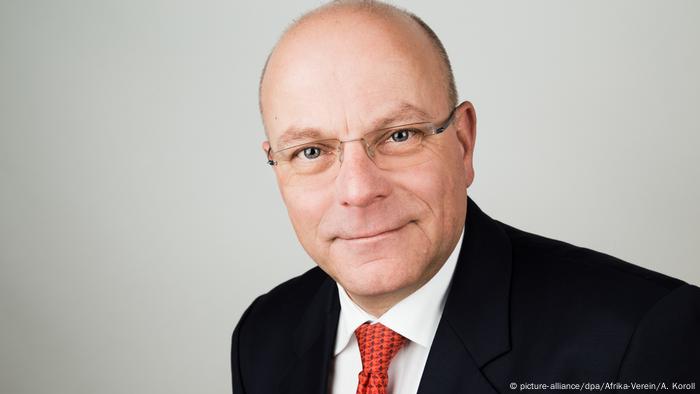 Christoph Kannengießer, German African Business Association
"So far hardly any integration into global supply chains"
Standstill belts because parts from abroad were missing - a number of companies in Germany had to experience this. According to a quick survey by the Association of German Machine and Plant Builders (VDMA), 89 percent of the members felt significant impairments in their processes in mid-April. "Many companies are currently sorting themselves out. Then perhaps they will move away from China and away from India," says Friedrich Wagner, responsible for foreign trade at VDMA.
Subcontractors and suppliers in Africa made up only a small part of the German mechanical engineering industry. "The geographical proximity is a big advantage, especially with North African countries," Wagner said in an interview with DW. For example, relationships have already grown with Tunisia in the field of electrical parts and with Morocco and Egypt in metal and sheet metal processing.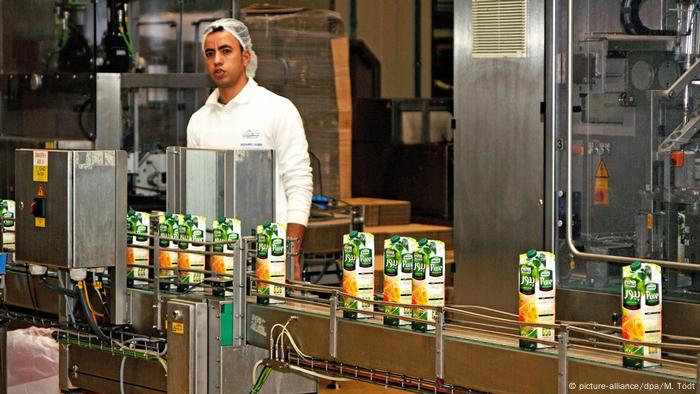 Filling line for fruit juices for the Juhayna Group in Egypt
Tilmann Altenburg from the German Development Institute (DIE) does not expect the Corona crisis to give the African countries a big boost. Diversification is of course desirable, but "the basic finding is that there is hardly any integration into global supply chains," said Altenburg in an interview with DW.
"Most African countries do not even participate in global trade - except as importers of consumer goods and as exporters of raw materials." Altenburg estimates that currently only two percent of the workforce on the continent are involved in export-oriented value chains.
"North and East Africa will be pandemic winners"
Alexander Demissie from the consulting firm AfricaRising sees it differently. Africa is already part of global value chains in many countries thanks to special economic zones and favorable investment conditions. "But German companies simply don't have Africa on their radar," said Demissie. Rather, it is the Chinese, but also the Dutch, French and British who are increasingly integrating countries such as Tunisia, Morocco, Ethiopia, Ghana, Senegal and the Ivory Coast into their supply chains.
"North and East Africa in particular will emerge as the pandemic winners," Demissie is convinced. With four to six flight hours to Germany, for example, these are ideal for reliable deliveries to European companies.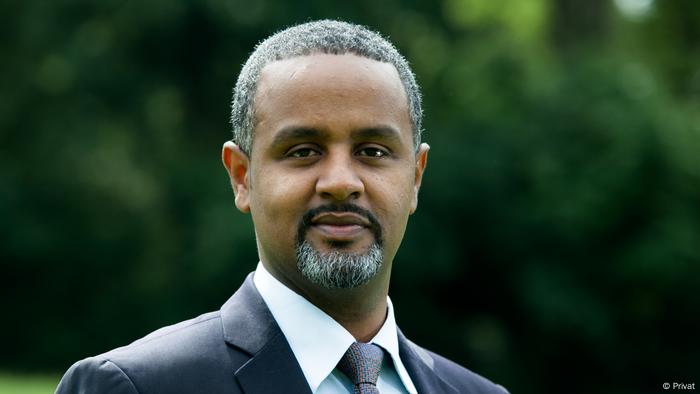 Alexander Demissie from AfricaRising
Tilman Altenburg from DIE can also see a certain trend towards diversification. He has analyzed the global textile industry and found that companies are increasingly producing in African countries such as Ethiopia. "Although production in Bangladesh would be cheaper, they say to themselves: Let's do something in Africa to spread our risks." However, this trend already existed before Corona. "The diversification logic is there. But that affects a few industries that are not complex and do not require just-in-time deliveries."
"Post-Pandemic Plans"
Demissie from the consulting firm AfricaRising sees other areas in addition to the textile industry in which Africa could play a role globally. For example, Egypt is increasingly producing generics for the African market in the pharmaceutical industry. And there are already connections to Europe. "Of course, the country could benefit from the fact that European countries want to make themselves more independent of China when it comes to medical products," Demissie said in an interview with DW. The German automotive industry is already producing for local markets in some countries on the continent. The focus is on South Africa - and for some time now on Rwanda too.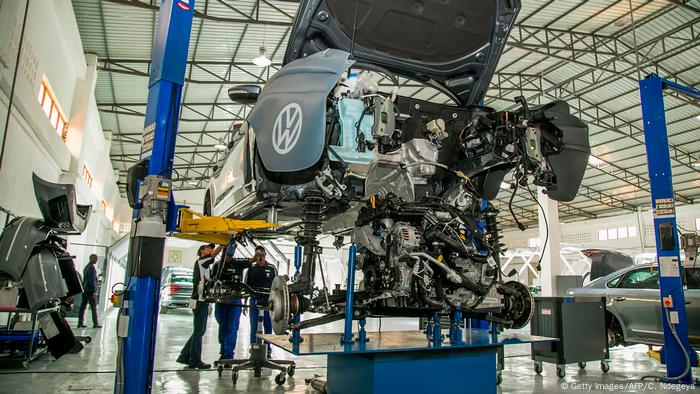 Assembly line at the VW plant in Rwanda
Christoph Kannengießer from the Africa Association observes that many German companies in Africa are currently still busy with crisis management for ongoing projects. But it is important to draw up plans for the time after the pandemic. "Industrial value creation in Africa could become a whole new topic with a completely new dynamic after Corona."